It's time for us to retire, its been a fantastic 34 years raising Quarter Horses. We've met so many wonderful people and made so many friends through horses. Thank you to all and please keep in touch.
Congratulations to Judy Jones, Judith Hubbard & Forest Jac! Forest is our UK celebrity. Click

Forest Jac

for the "Win" picture and story.
Congratulations again to Forest Jac for his 2010 AQHA International Hi Point award!
Congratulations to Tiffany Azevedo, John Irish (trainer) and Mainly an Okie on their ORHA Reining Classic Open Futurity Reserve Championship. Click Below to see the "WIN" Pictures.
2005 day old Marty filly & her proud owner!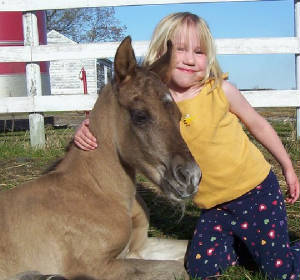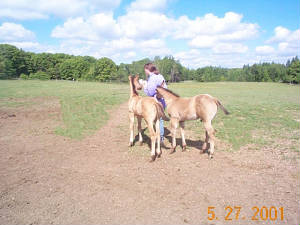 Tracy & two curious grullo colts
At Double T farm we pride ourselves on raising Quarter Horses with wonderful dispositions, willing attitudes, excellent conformation, athletic ability and the added bonus of beautiful rare colors when we get them.