Two T Gen Jackson is a 1994 bay stallion. He is an own son of Easter Gentleman, out of an own daughter of Hobby Horse x King Fritz. Jackson Stands at Sundog Quarter Horses in Yoder, CO. (check out our links page to visit Sundog Quarter horses) Scroll down for Jackson's complete pedigree and pedigree notes.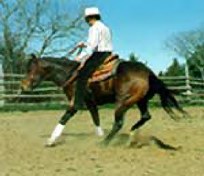 Two T Gen Jackson 3309502 1994 bay stallion

SIRE side of pedigree
King 1932
0000234 bay

Zantanon
U0081745 n/a

Easter King 1951
0040406 sorrel

Jabalina
U0072570 n/a

Gocha H 1947
0018067 bay

Cuate 1935
0009190 chestnut

Easter Gentleman 1970
0754223 gray

Jane by Darity TB
U0155905 n/a

Grey Badger II 1941
0002006 gray

Midnight Jr 1937
0000210 black

Bobbin Badger 1955
0053774 gray

Grey Annie 1932
0003502 gray

Buckann 1944
0007591 grullo

Buck Hancock 1941
0001479 black

Triangle Lady 4 1931
0000451 dun


---

DAM side of pedigree
Tinky Poo 1949
0030339 brown

Wayward Irving 1934
0017664 brown

Hobby Horse 1960
0199892 bay

Little Peach 1941
0004088 black

Beauty Hobler 1945
0008768 bay

Black Out 1940
0000899 black

Fritzis Doll 1982
1968520 bay

Ace of Hearts I 1940
0005772 bay

King Fritz 1956
0058532 bay

Power Command 1949
0028781 sorrel

Fritzi Chex 1975
1127641 brown

Poco Jane 1948
0022186 bay

Ottilie 1955
0055560 brown

Billy Lenart 1948
0024332 bay

Sandra S 1949
0019522 sorrel


---
To quote Brian Wright who wrote in his article, "Straight from the horses mouth- General Jackson" published in the 1999 Midwest Stallion Review,
"For those seeking foundation horses, take a look in the Western Horseman "Legends Books". You will find 9 out of 14 names on Jackson's registration papers (we don't mean his extended pedigree here, but his registration papers showing his first three generations!!) that are mentioned in the "Legends" 1 & 2 books... "General Jackson" brings the strengths of the Easter Gentleman horses and the remarkable King Fritz breeding program to those wishing to breed him. Couple this with the success of the Hobby Horse line, and result is a unique stallion of royal heritage."
He is an own son of Easter Gentleman, and his dam is a direct daughter of Hobby Horse-
His nearly identical 1/2 brother, Two T Pachuco Wimpy, graces the cover of the book, "Reining, The Art of Performance in Horses", by Bob Loomis.


| | |
| --- | --- |
| | Easter Gentleman sired 83 performing foals of which there were 212 performance winners, earned 458 AQHA performance points, 28 AQHA halter wins, 13 AQHA ROMs, 1 AQHA Grand Championship, 5 AQHA Reserve Grand Championships, 2 AQHA all around champions and 2 AQHA reserve champions. His get have earned $200,313.69 NRHA dollars and won money in NCHA and NRCHA. |
| | |
| --- | --- |
| | Easter Gentleman is one of the highest money earners per get averaging $13,000.00, with one out of three offspring being a champion or money earner. |
| | |
| --- | --- |
| | |
| | |
| --- | --- |
| | Hobby Horse was the 1964 high-point working cowhorse stallion, AQHA 1964 open champion, ROM - performance, won $5,613 racing dollars, had a speed index of 100, earned 21 performance wins, 69.5 performance points, 12 AQHA halter wins, 28 AQHA halter points, 1 AQHA championship, 7 AQHA Grand Championships, and 4 reserve AQHA Grand Championships. He sired 344 performance foals who earned $222,736 in racing, earned 2,692 performance wins, 7,021.5 AQHA performance points, 313 AQHA halter wins, 357.5 AQHA halter points, 133 AQHA performance ROMs, 4 AQHA world championships, 2 AQHA halter superior awards, 31 AQHA performance superior awards, 4 AQHA championships, 5 AQHA reserve world championships, 105 AQHA grand championships, 139 AQHA reserve grand championships, 265 AQHA all around championships, 112 AQHA reserve all around championships and 3 AQHA halter ROMs. In AQHA world championship shows they earned $28,855.93, NCHA $146,280.17, NRHA $79,367.43, NRCHA $33,073.27, NSBA $30,399.77, also PHBA 275 performance points and IBHA 23 performance points. |
| | |
| --- | --- |
| | King Fritz was an AQHA Champion, 1962, ROM Performance earner in 1960, NCHA money-earner, AQHA Halter Point Earner and AQHA Performance Point Earner. King Fritz became one of the great reined cow horse sires on the west coast. His foals read like a Who's Who in the reined cowhorse industry. He sired: World Champion Offspring, Reserve World Champion Offspring, Superior, Halter Offspring, Superior Performance Offspring, AQHA Champion Offspring, ROM Performance Offspring. NRHA Money-earners, NCHA Money-earners, Halter Point Earners and Performance Point Earners. |
| | |
| --- | --- |
| | AQHA Offspring Record: Total Points Earned: 3,536.5; Reg Foals: 318; Number Shown: 115; Point Earners: 106; Halter Points Earned: 515; Halter Point Earners: 41; Superior Halter Awards: 1; Performance Points Earned: 3,021.5; Performance Point Earners: 129; Performance ROMS: 66; Superior Performance Awards: 11; AQHA Champions: 13; World Championships: 4; Reserve World Championships: 4; High Point Wins: 4; Total Superior Awards: 12; Total ROMs: 66; NRHA Offspring earned: $4,344; Number of NRHA Offspring: 2; NRHA Offspring Average Earnings: $2,172; AQHA Offspring NCHA earned: $34,313. |
| | |
| --- | --- |
| | Jackson is 23.70% King, 25% Easter King and Hobby Horse and 12.5% King Fritz-bred, a proven sire, a finished reiner, and a wonderful horse to have around. He's earned money in the NRHA, competed in working cowhorse and is also a finished heel horse. |